Wedding Photo Booth 3 Reasons To Consider
Wedding Photo Booth 3 Reasons To Consider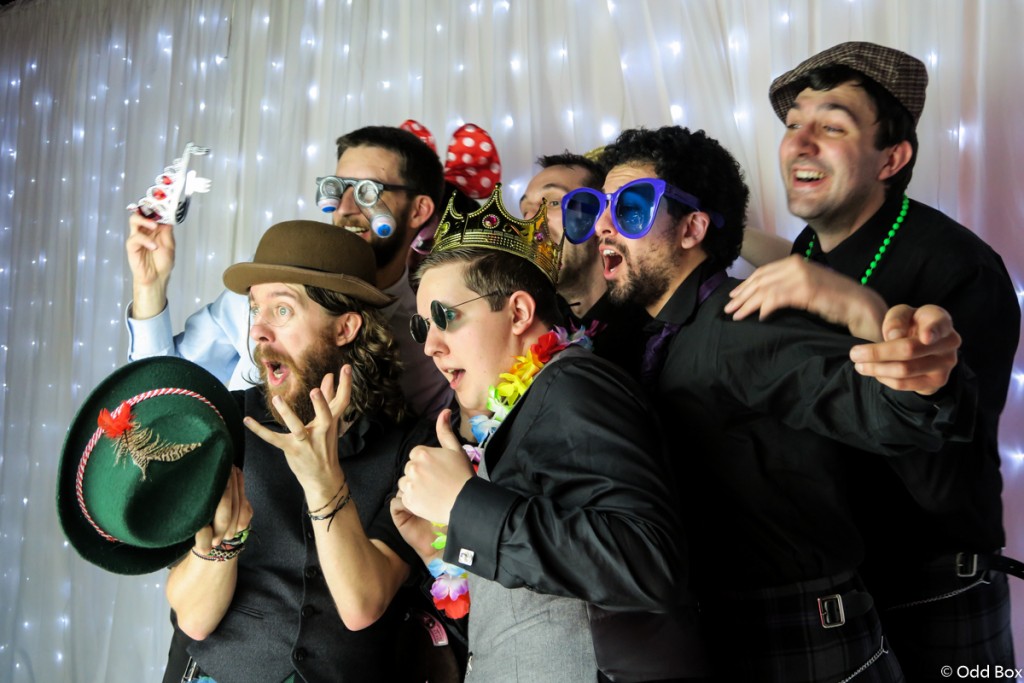 It's Spring and wedding season is upon us!
We get the chance to chat to loads of lovely Brides and Grooms and the one thing we always ask them is, "have you thought about hiring a photo booth for your wedding?".
About half of them either have and are looking to hire a photo booth or they have decided that it isn't worth it. The other half look at us blankly and shake their head from side to side as they still do not understand the photo booth concept.
So around 3 quarters of the people we ask still don't know the real reasons why you should consider booking a photo booth for your wedding reception.
We locked ourselves in a room for 24 hours and thought long and hard about how we can help those still unsure about the whole idea. Behold our top 3 reasons why if you haven't already you ought to now be considering your very own wedding photo booth.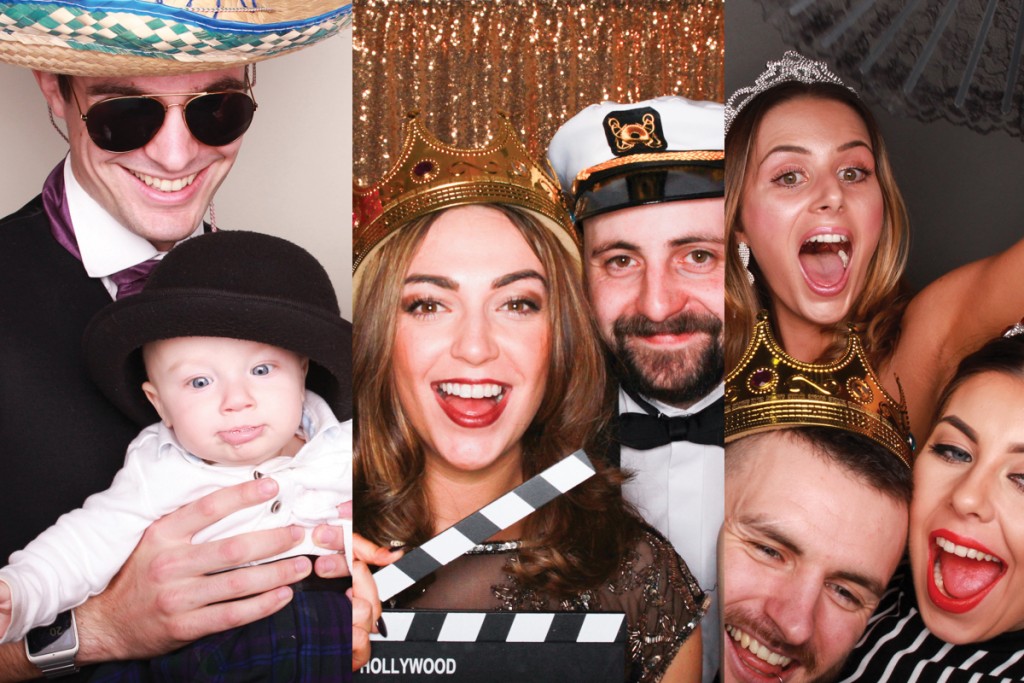 1 – Entertainment
Without a doubt the number one reason most people book a photo booth is to provide some hilarious escapism and fun whether that be at a University graduation, a fancy corporate ball or your Scottish wedding.
Here at Odd Box we have found photo booths to be one of, if not the most entertaining aspects of your wedding reception. We are not afraid to say it and have had countless comments by brides and grooms that it was the highlight of their wedding party.
With the Open Air style of photo booths not only can your confident guests have a blast but those who wish to take it a little bit easy for the night will be grinning from ear to ear as the party goes on, no doubt they will end up in the photo booth at some point we have seen it happen time and time again.
A shared experience is always more enjoyable for everyone and the Open Air style has proved to be a winner.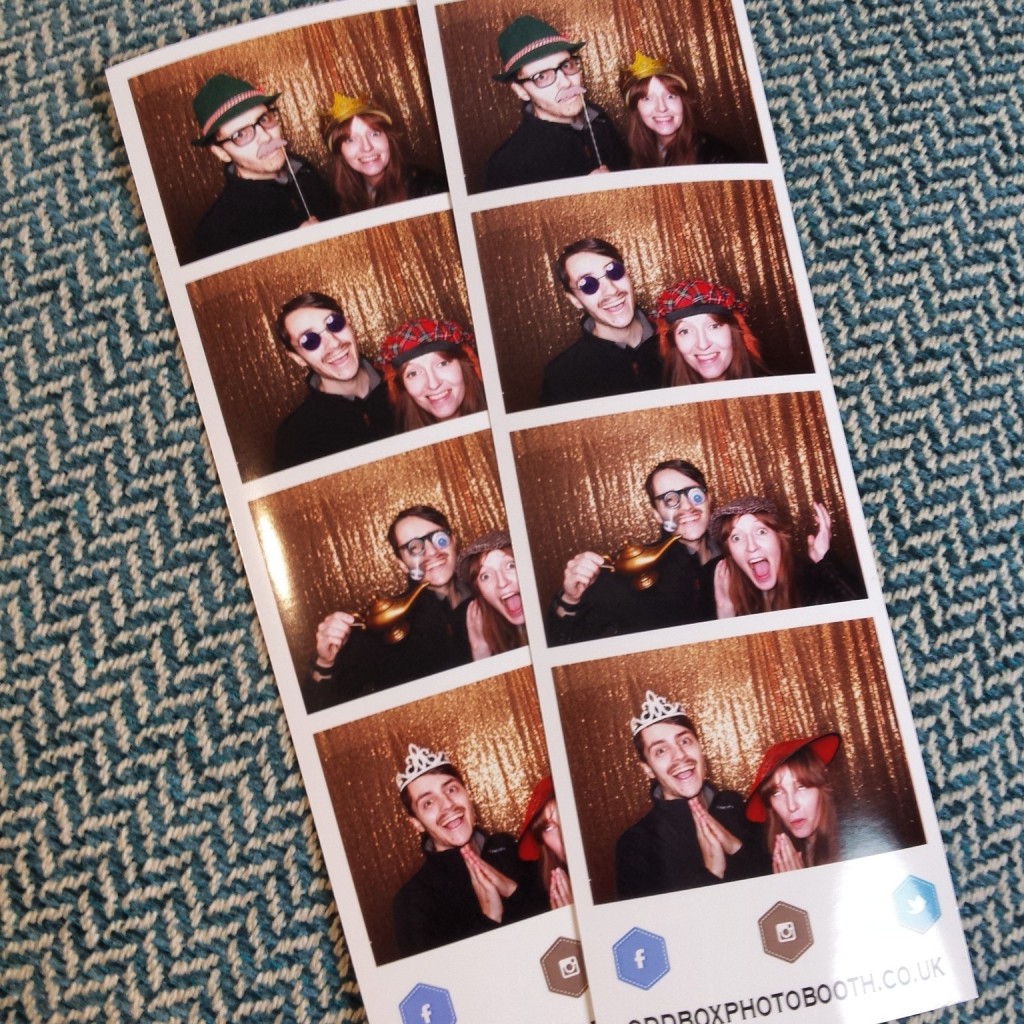 2 – Instant Keepsakes
One huge benefit that is mainly overlooked is the amount of value you receive not just in instant entertainment but the memories you have to share in a variety of ways.
Guests get instant prints on the night as soon as they have had their fun in the booth.
After your wedding everyone can purchase extra or  larger prints on various materials such as canvas, acrylic or aluminium-mounted prints.
Your guests also have the ability to download their images proving to be highly popular and they will inevitably share them with friends and family and on social media.
You can create your very own guestbook or purchase one from us if you want something a little bit quirky.
Secure your awesome photo booth photos with a Bespoke wooden USB and you will even receive a free wedding video of all the fun had in the booth.
Your photographer wont be there to capture all of those evening guests and each Odd Box photo booth provides such high quality results if you never used props you wouldn't even know the image was taken in a photo booth.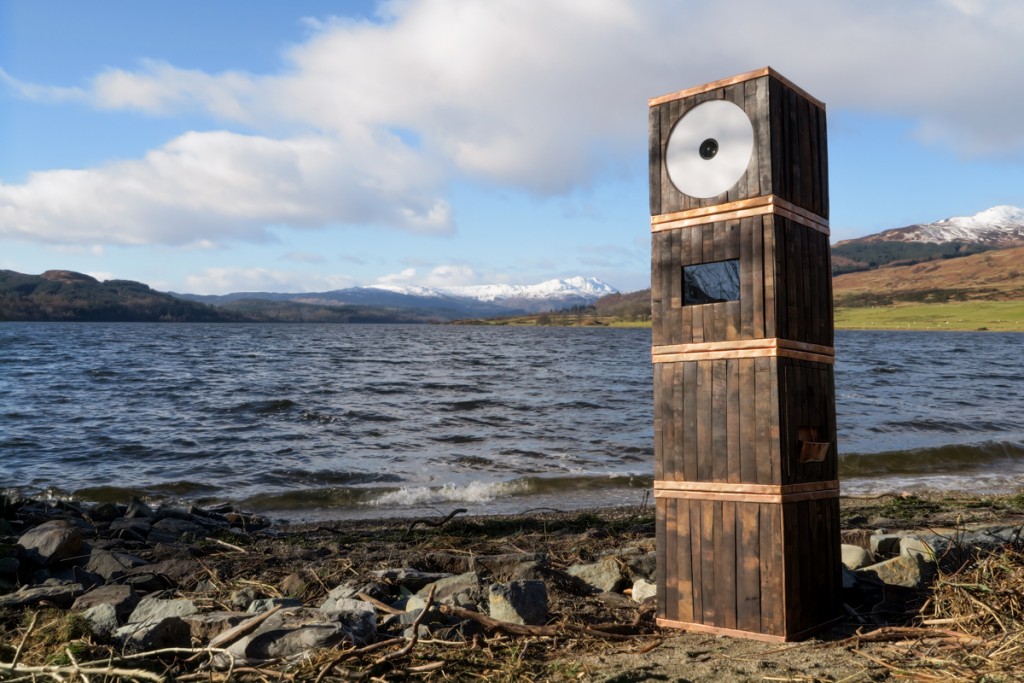 3 – Create That WOW Factor
Photo booths are not just a tool for entertainment, they are becoming a work of art and can truly add to the aesthetic of your venue.
Yes there are a lot of the same old, similar looking booths out there. But if you are like us and you want something of unique quality and character you have found the right place.
With the photo booth concept now being used in a variety of different ways there has never been a better time to search for your favourite photo booth, you can pretty much tailor one exactly to the theme of your wedding venue.
We have fallen in love with the Odd Box Whisky Barrel Booth which nestles in perfectly at those wedding venues surrounded by the stunning Scottish landscape.
Even the lovely people at The Scottish Wedding Directory Magazine have taken a fancy to the Whisky Barrel Booth, find out more in the latest 2016 Spring edition of the SWD magazine on page 291.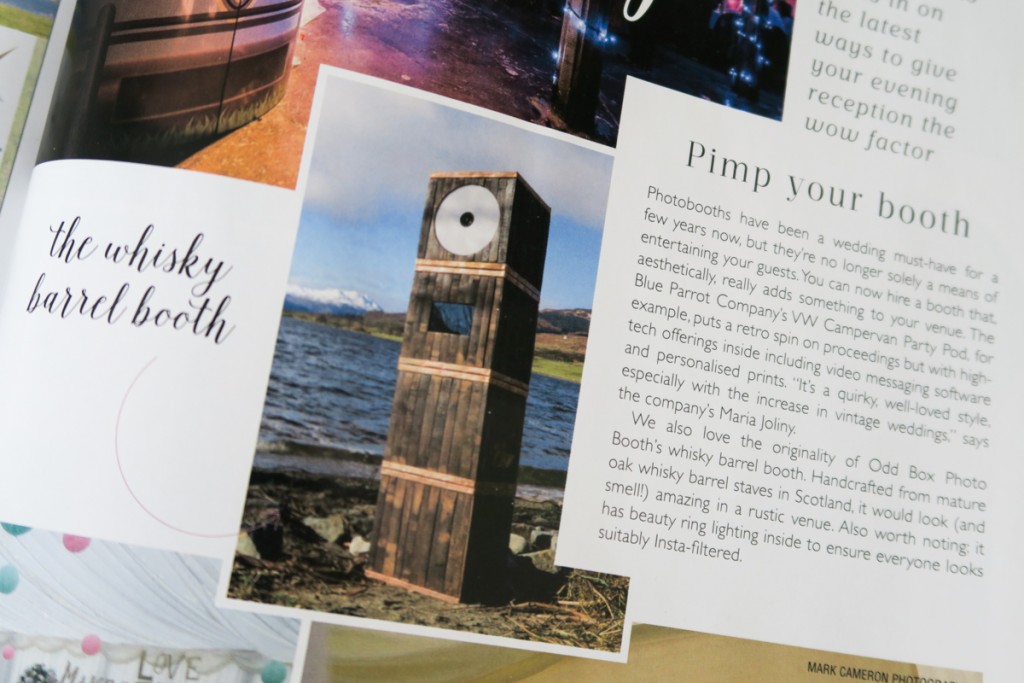 Something To Consider?
So there you have it, if you hadn't considered hiring a photo booth before for your wedding we can guarantee you now have some tasty food for thought.
Make your one, special day count and capture it in style with your very own Odd Box photo booth.
Book your Whisky Barrel booth today and claim £50 off your hire with the unique code: WH-WB50