GG's Yard Wedding of Eilidh & Kieran
GG's Yard Wedding
Eilidh & Kieran
---
Driving down the M74 on this glorious Saturday. Night and day compared with the previous Tuesday when we drove to Auchen Castle! The Scottish weather kindly spoiled me with endless blue skies and a nice ray of warm sunshine for this amazing GG's Yard wedding. Some prescription sunglasses would have been a welcome addition though!
Driving from Glasgow to GG's Yard is very scenic. There's a nice mixture of rolling hills when you leave Glasgow eventually winding into some cute little villages as you near GG's on the coast. You can see why people fall in love with this area, those gorgeous views out onto the ocean. GG's Yard comes into view, looking very majestic and inviting, perched overlooking some fantastic scenery.
The grounds are immaculate. Even though you can tell it is a very new venue, there are heaps of character mixed with that rustic Scottish charm that just draws you inside. There's always a real buzz in the air arriving at GG's Yard in full wedding swing. Eilidh & Kieran's was no exception.
The ceremony wing that I entered into is perfectly designed for the wedding ceremony. Your bridal suite is nestled up high at one end of the wing. You would then descend the stairs and be able to see some gorgeous views out onto the water at the opposite end of the wing.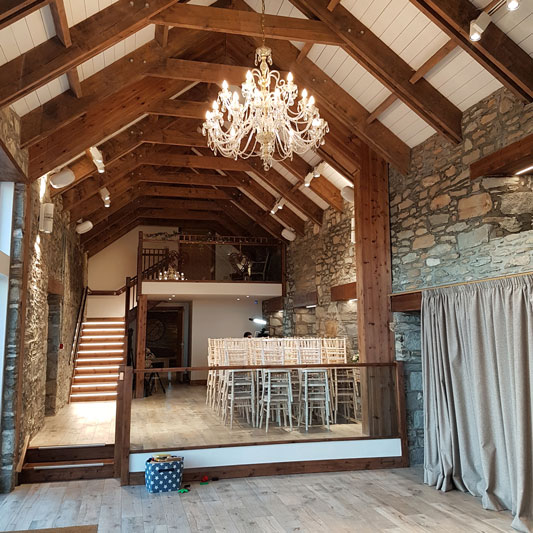 Live Event Artist
I first noticed an interesting set up just next to the stairs from the bridal suite. An easel and canvas with various paints and an amazing piece of art still in progress. It turns out that the very talented Maiia Vysotska from Live Event Painting had been asked by Eilidh & Kieran to create a bespoke painting of them standing together at their ceremony. Painted live throughout the wedding day! This is the first time I have ever come across this concept but what a fantastic idea it is. It's always the memories that you hold onto once your wedding day has been and gone. It would really bring a smile to someone's face seeing an amazing piece of art showcasing you and your partners wedding ceremony.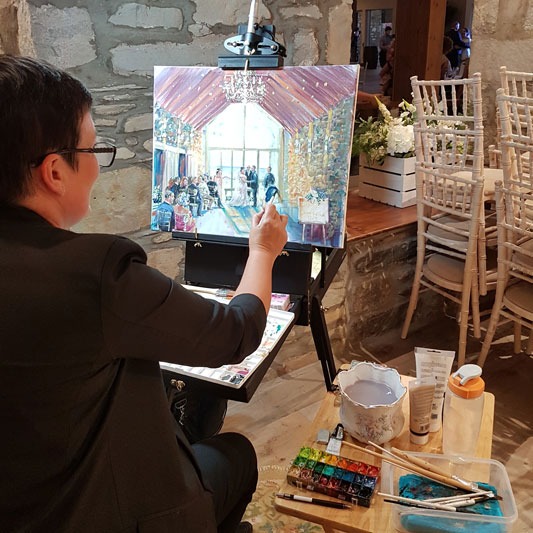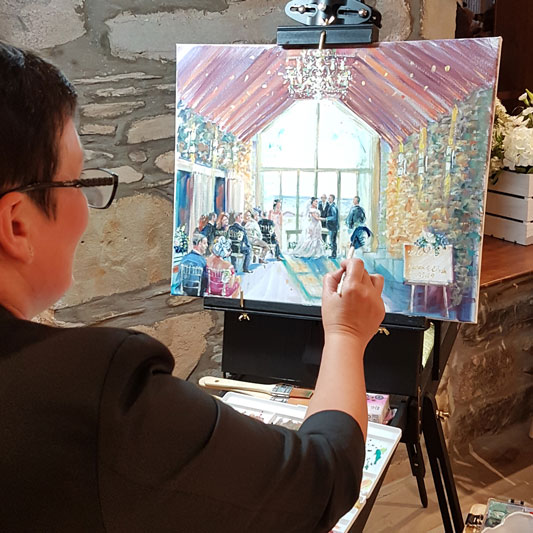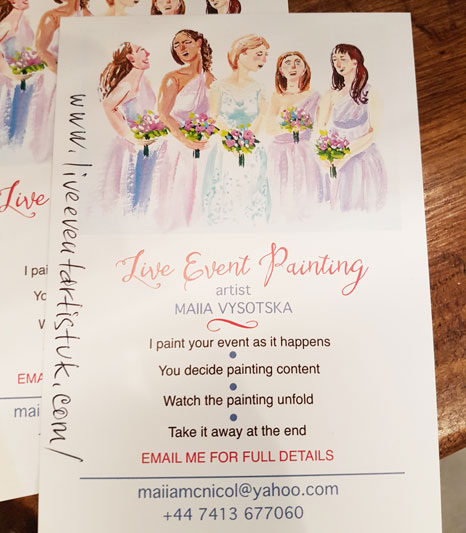 Now we normally set up in this space and Eilidh had planned to use the plain white wall as a backdrop for the photo booth. But there is always a plan B! With the assistance from the GG's Yard team, we found a great location further down the ceremony wing. This also meant we could use the super rustic stone wall as a backdrop!
Now a lot of brides have asked if they can use this as the backdrop for the photo booth. Unfortunately this was a one off given the circumstances, as normally this area is used for the evening buffet. So in most circumstances the photo booth is set up in the space at the foot of the bridal suite stairs. After set up I managed to snap some photos of the sun setting out on the water. These glass windows really frame the view in all it's glory.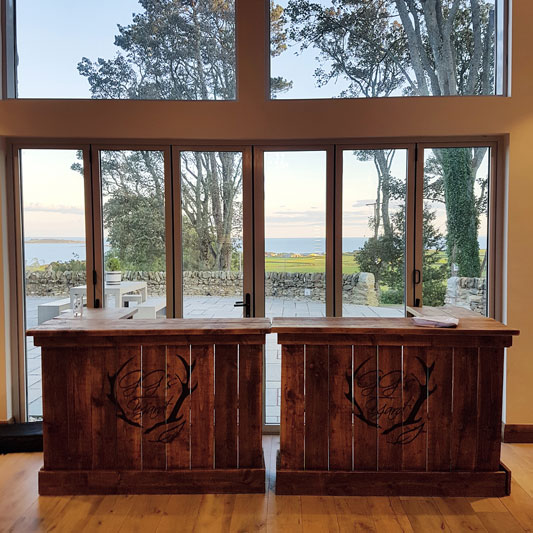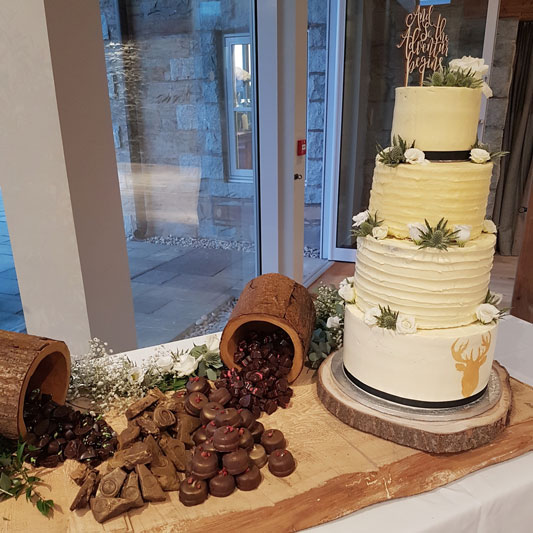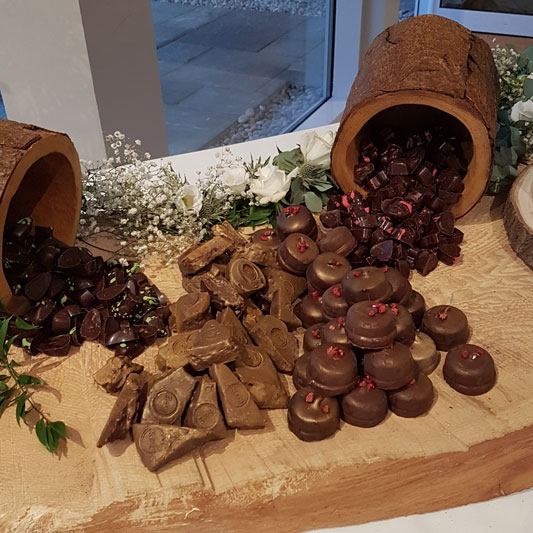 Wedding Band Alternatives
With plenty of time to spare I snapped some more photos of the amazing cake which was waiting to be cut. Eilidh & Kieran had a quirky log which had been split in half with incredibly tempting chocolates pouring out. There were some fantastic vocals during the end of the meal while setting up the booth. It was a talented female singer who has been very popular at GG's yard and I could definitely hear why. I believe the Female singer was Helen Jane Oneill.
It was also really nice to see a mix up from the normal band or DJ only set up. Nick Morgan came along to play a foot stomping set of acoustic covers along with the first dance songs. He did an amazing job getting the wedding guests up and dancing to kick the night off. After playing his set, Nick played a set list so similar to what a DJ would do over the speakers. It created a really nice balance. As I didn't stay past 10pm I'm not sure if Nick played any more acoustic sets but for the time I did listen to him it was great. Definitely worth checking out if you aren't sure what to do in terms of music for your wedding reception.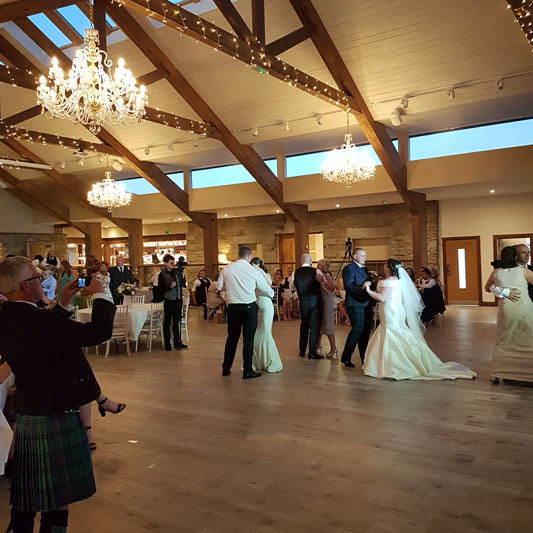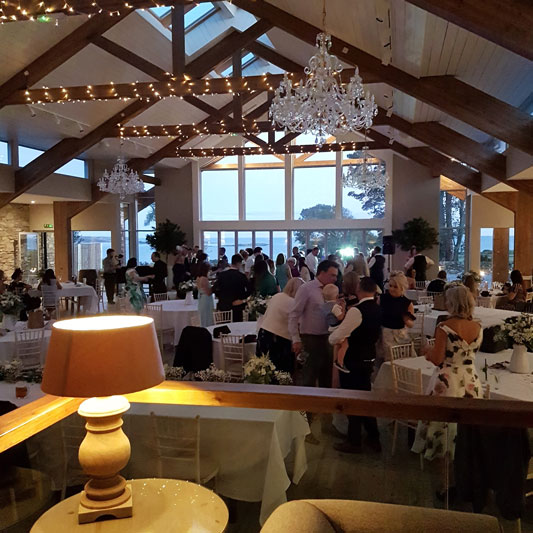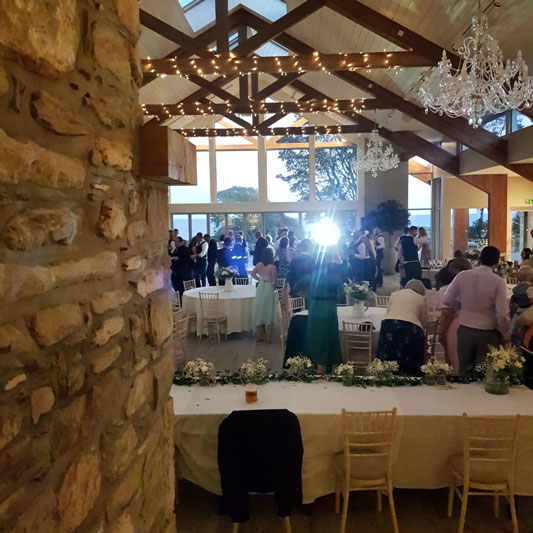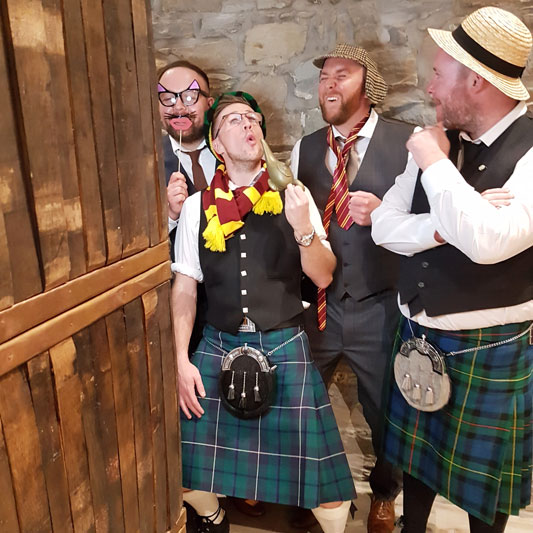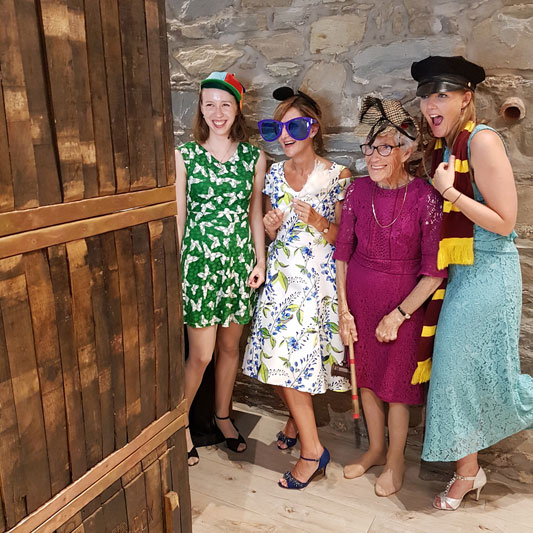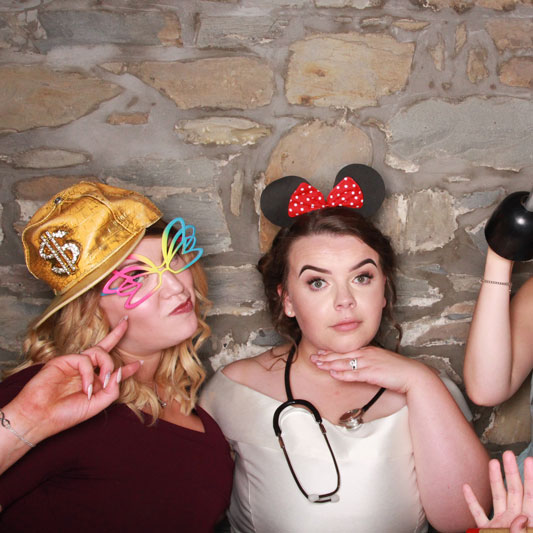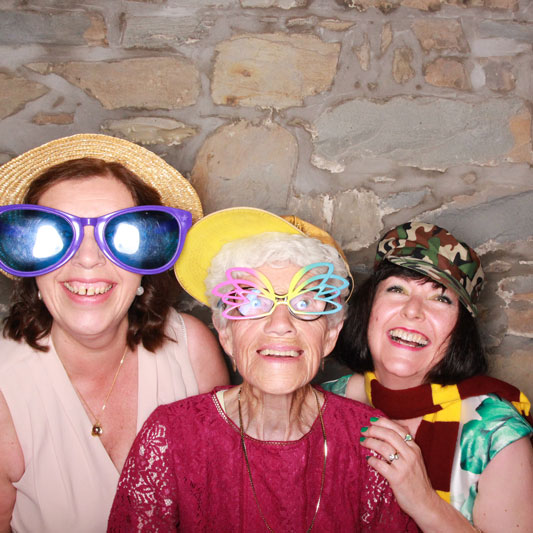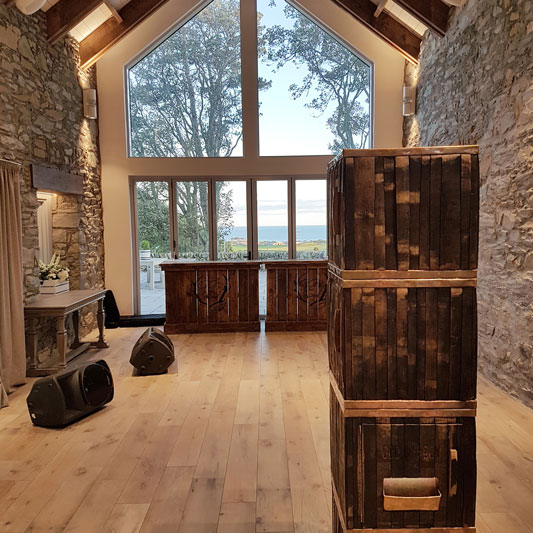 The photo booth fun was then in full swing after letting guests know that we were ready to rock. Eilidh & Kieran's guests were a real treat to entertain. I never tire of seeing everyone young and old letting their hair down and having a good laugh. Especially when you get to see the whole group joking and laughing with each other over their prints.
The Whisky Barrel photo booth looked great with the various textures and materials inside GG's Yard. I made sure that Eilidh & Kieran got to snap some photos together and I then called it a wrap at 10pm. 10 minutes to load out and I went to thank Eilidh for everything, she was such a lovely bride to work with and I was so chuffed to see them all having the best day of their lives. I left GG's yard with the buzz still in the air behind me and the dancing going on strong.
GG's, it really never disappoints!