Dovecot Studios Wedding Photo Booth Edinburgh Scotland
Dovecot Studios Wedding Photo Booth
The Location
Dovecot Studios may not seem like your everyday wedding venue, that's because it's not.
Only a few lucky couples every year manage to tie the knot at this iconic Edinburgh wedding venue.
Normally the Weaving Floor is exactly that, busy with the hustle and bustle of very talented folks creating colourful garments from scratch.
We will try and not butcher their craft because we know precisely 0.001% about weaving so let us discuss something we are a bit more familiar with.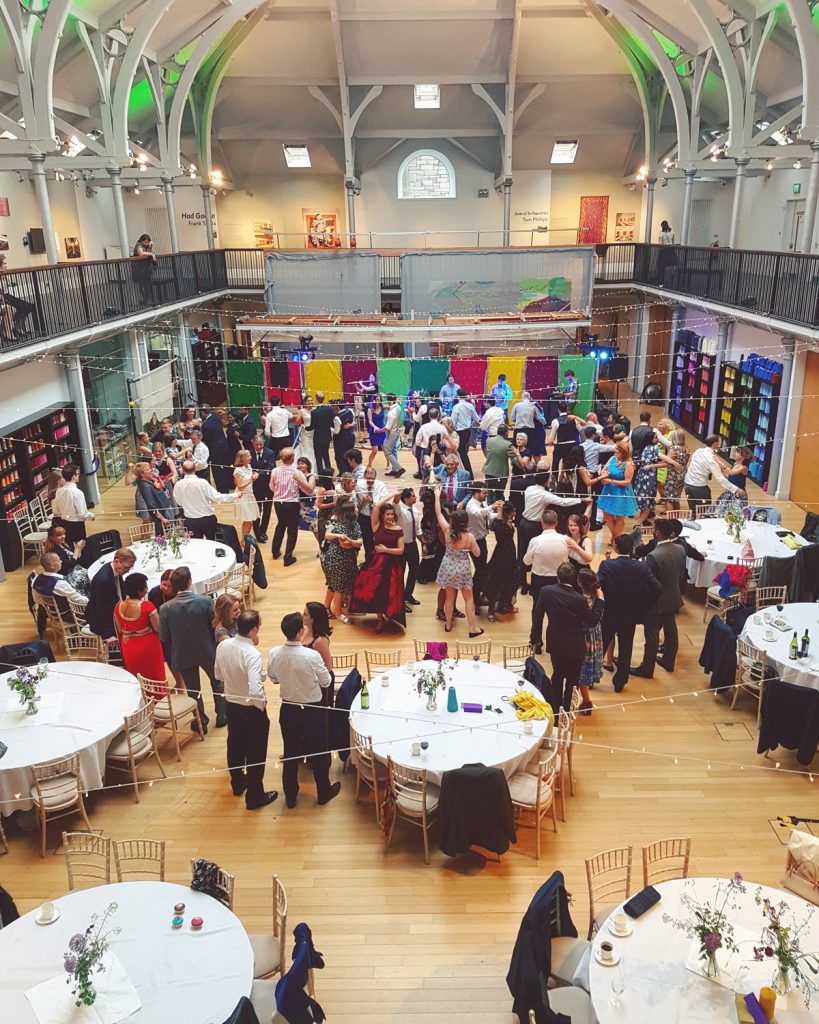 The Wedding
Sunayna & Matthew first contacted us about their wedding back in December and asked for a bit of fun for their guests during the day time.
We have done this in the past as every wedding schedule is entirely unique but Sunayna & Matthew later decided it would be better to push the photo booth back until the evening reception.
In hindsight it was probably a fantastic move!
With no evening guests this was one large but intimate wedding which is some feat when you take in the grand nature of the weaving floor and viewing gallery.
It was fantastic to see all of the guests getting into the full swing of the wedding reception and having so much fun.
As you can see from their stunning order of the day, the entire experience had been well thought out.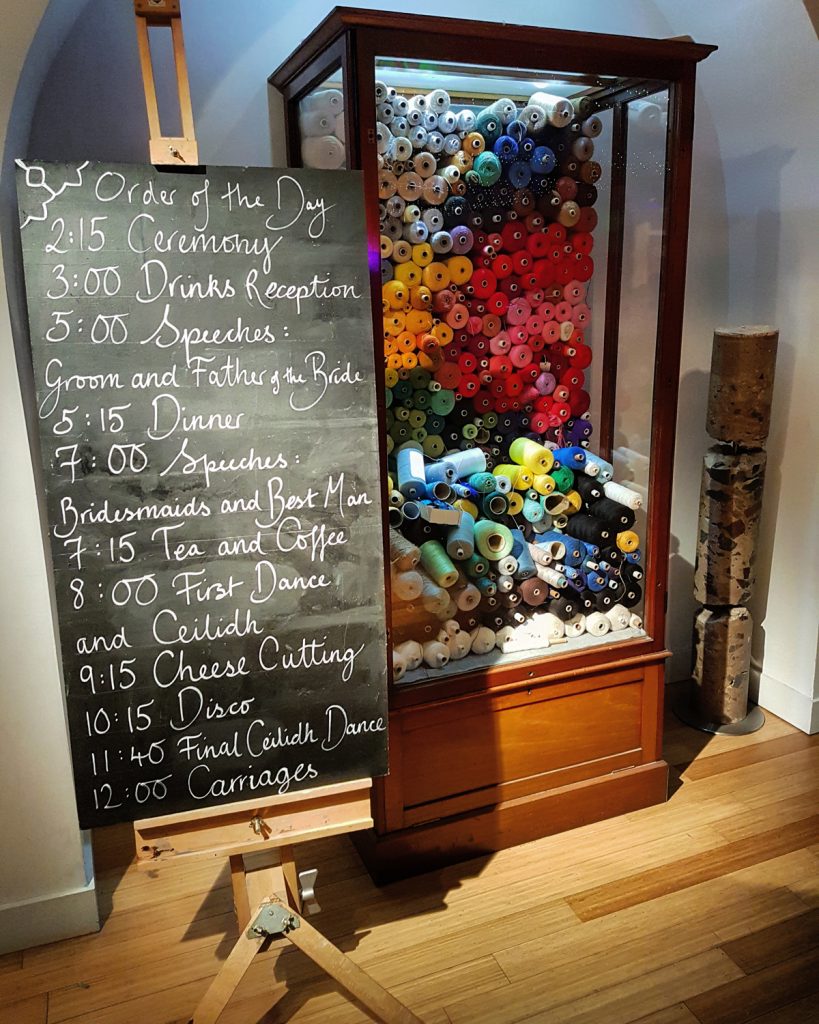 Guests were fired up by the amazing Sporran Again who rocked some alternative Ceilidh tunes and had us eager to join in the fun.
The Backdrop
We equally had our hands full though!
No sooner had the dancing started but a queue quickly formed with guests ready to capture some pictures in front of this awesome backdrop.
Sunayna and Matthew had discussed their quirky backdrop with us prior to the wedding day but we had no idea what to expect until we saw it in person.

You may not have thought so but a shelf full of colourful spools of yarn makes for a fantastic photo booth backdrop, especially on a weaving floor!
Top Tips
If you are thinking of hiring a photo booth for your wedding then think carefully about the various scenes and feature walls you could create and use for your backdrop.
It is always both eye catching and memorable to use a backdrop that represents your wedding venue so take a few moments to think about yours.
Dovecot Studios has enough of a blank canvas while retaining a bit of a starting ground to get you up an running with your wedding planning but it is always nice to see what other brides and grooms have done with the space.
Until Next Time
We are really fortunate to have been a part of Sunayna and Matthew's amazing Edinburgh wedding at Dovecot Studios.
Are you lucky enough to be getting hitched at Dovecot Studios sometime soon?
We would love to hear from you about your plan for your wedding day and how you aim to make the most of this incredibly creative space.
If you think this is the one for you and you are lucky enough to be offered a date, take it, and say hello to the Dovecot monkey for us!