Welcome!
Hello everyone! After many many hours of hard work, research, design and development we are proud to announce the Odd Box website is live. To those already aware of our work and services we can't thank you enough for supporting our first few months, we wouldn't be here without you. To our new visitors we welcome you to our company and you are the reason we have poured our hearts into creating this website as a new platform for new customers allowing us to provide you with the best photo booth entertainment Scotland has to offer.
We offer our unique photo booths as a professional entertainment service which doubles as the perfect keepsake for any event as you receive digital and physical images to cherish for eternity. Everyone who attended your event, performing hilarious antics that only the Odd Box can produce are captured in time, it truly is a one of a kind experience that creates memories for everyone. Weddings, parties, corporate events and literally everything in between can benefit from our bespoke photo booths.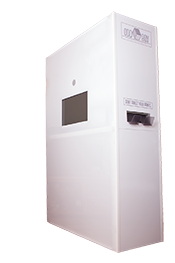 We focus on providing exceptional customer service and a quality product. We hugely value your feedback as our aim is to serve you meaning any improvements we can make will be treated with the up most of importance. we really mean it when we say our photo booths are unique as they were designed for the style conscious public who require something that looks just as good as it performs. Our photo booths have no hideous text, company information or contact numbers, tacky designs are simply not allowed in our workshop as we know you deserve better. Our branding has been incorporated with the final sleek design creating a highly attractive photo booth that wouldn't look out of place if it was in space.
Research has shown that many people still have no idea what a photo booth actually is, particularly the elder generation. Our website and blogs will be used to educate the public on the history of the photo booth through to it's present evolution. We will provide you with the knowledge to confidently realise what you need to provide the best entertainment available and why like many things in life you get what you pay for and we can help you pay less. We believe we have the product for you, at the price you'd like and the quality you deserve without breaking the bank.
In the coming months we will be improving any aspects of our website we feel needs a little tlc based on your feedback and our own analysis so we apologise for any niggles in advance but our web team do an fantastic job so you may not even notice. Preparations for the busy wedding season are underway and we look to attend some wedding fayres in Scotland so if you want to see the Odd Box somewhere near you let us know. Look out for more blogs to come that don't simply just say "hello", we can't wait to create great content that will help you immensely when deciding on some unique entertainment for your event. Until the next blog, take care folks and a happy new year.