Wedding suppliers shed some tips at The Cow Shed Crail
Wedding Suppliers Shed Some Tips At The Cow Shed Crail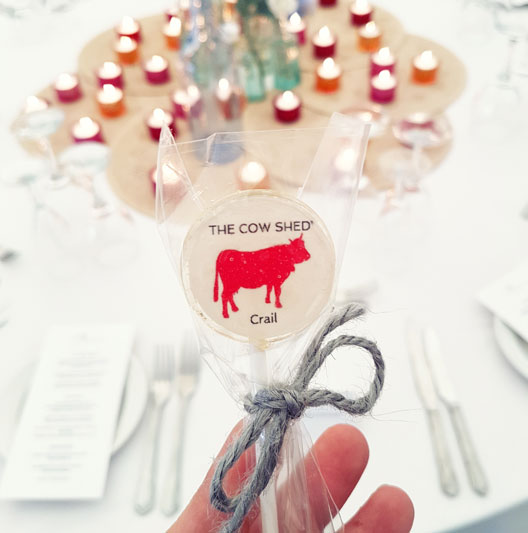 We had a fantastic day chatting to lots of excited and slightly nervous Brides & Grooms at The Cow Shed Crail Open Day on 9th February. Some were newly engaged and just at the beginning of their wedding planning journey. Others were there to scope out the layout one final time, ticking off some suppliers from their wedding checklist before the big day!
It got us thinking how daunting wedding planning can be, after all, it isn't everyday that you plan a wedding! You might have had your "dream" wedding imagined for years but when you both say "yes" the reality sets in. It's so easy to feel like you have a large mountain to climb before you can picture you dream wedding taking place.
Like most things in life, it's easier to plan a wedding with some help rather than attempting it all on your own. So after spending a lovely day answering wedding related questions and speaking to a bunch of amazing wedding suppliers we had an idea. We caught up with some of the suppliers to "shed" some top tips for your wedding day at The Cow Shed Crail.
The Cow Shed Crail
Who would be better to ask for tips than the lovely Jo from The Cow Shed! Jo manages all of the bookings at The Cow Shed and is on hand to help you with all things wedding.
Jo kindly shared some of her top tips for you to focus on. Here's how to not get lost in all the madness of planning and keep things simple.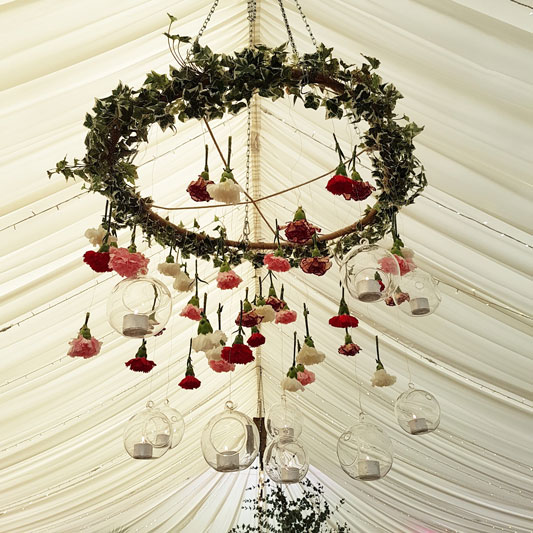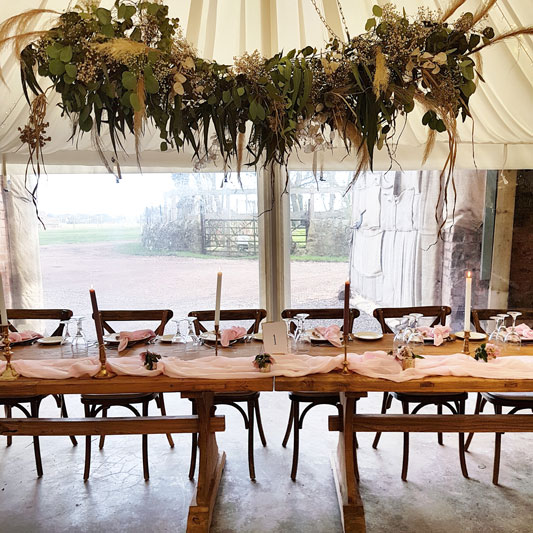 "you don't need to spend a fortune on flowers - foliage makes a huge impact at the venue and is much cheaper"
Keeping costs low and quality high is a complete balancing act but Jo's tip to focus on using lots of foliage is definitely one to remember.
If you have been watching "Escape to the chateau" you might have noticed Angel uses a lot of foliage to create depth and texture. Best of all it's cheap yet stylish!
"remember what the day is about and don't get too hung up on Instagram/Pinterest! It is about your friends and family watching you get married, with some food and wine and everyone together you will have a great day."
Often we find ourselves caught up in the tiny details and forget the big picture. If there was one piece of advice to listen to on the night before your wedding this one from Jo is an absolute must!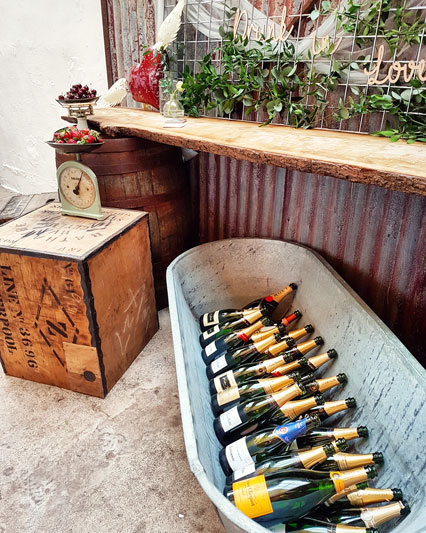 "don't forget we are very close to some fantastic beaches which make for great photographs"
Once your big day has been and gone your photographs and video's are one of the best ways to reflect on your wedding day.
Spend some time with your photographer pinning down exactly where you would like your photographs to be taken. Have a plan B in case the lovely Scottish weather turns!
The Cow Shed also have some lovely accommodation options which are definitely worth considering.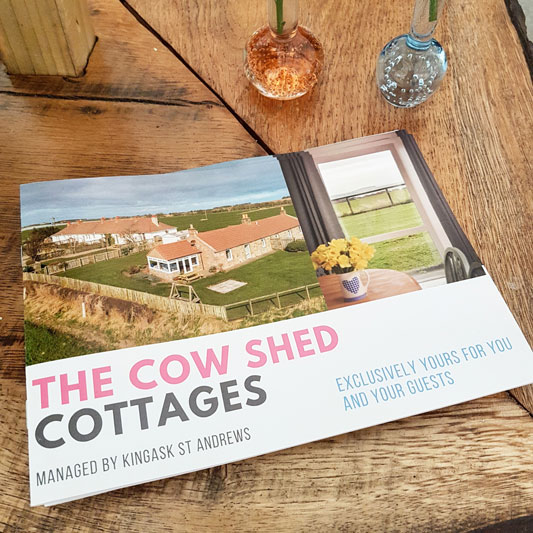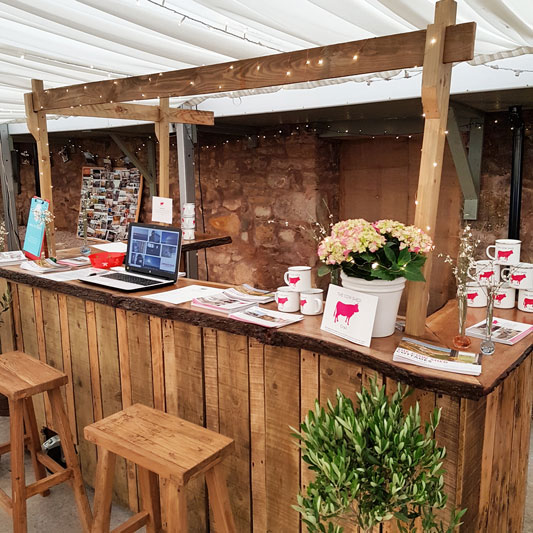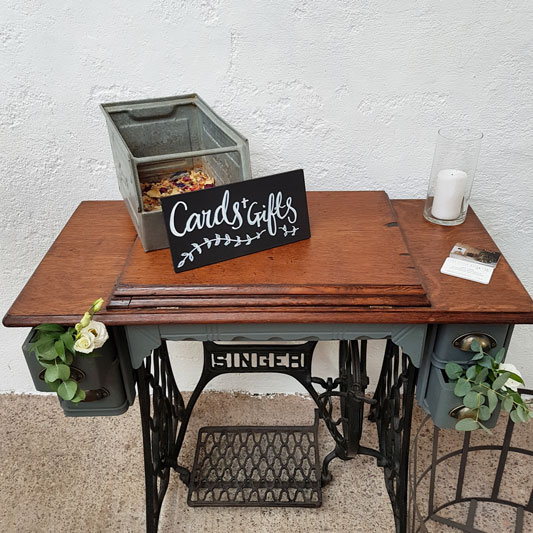 The Little White Cow
We caught up with Kate from The Little White Cow who are experts at styling The Cow Shed.
The ladies from The Little White Cow have a keen eye for design and have a wealth of knowledge to bring your blank canvas to life!
"The Cow Shed's beautiful barn is ideal for your ceremony, many people worry that after their ceremony the room becomes an empty space. This does not have to be the case. We always suggest having some seating options and perhaps your table plan ready and waiting in the marquee - these can be quickly lifted through to give the barn another purpose. Also don't waste your beautiful ceremony set-up - these make ideal Photo Booth backdrops."
Kate clearly knows how you can make the absolute most of your wedding decor. We have used lots of ceremony archways or floral arrangements as a feature backdrop for your photo booth in the past and it works a treat!
Your guests may want to have a wee wander around The Cow Shed when they have a chance so consider how you will keep them comfortable and amused.
"The Cow Shed boasts lots of beautiful original features - with a little bit of thought you can make them really standout. Remember you have their wonderful original work bench - an ideal spot for your guest book."
Another fantastic tip from Kate, we spent some time ourselves admiring all of the little features in The Cow Shed and highly recommend you take the time to do so too. You have entire use of the space so make the most of the original features, simple touches here can go a long way!
"The wooden dividers in the marquee of The Cow Shed can be dressed up to your heart contents - place them behind your top table, cover them in photographs or we recently covered them in vintage mirrors."
Simple yet effective, Kate's tip will help create a stunning feature which you can personalise while ensuring you don't have to break that wedding piggy bank. How amazing do the vintage mirrors look?
The Dotted Crotchets
One of our personal highlights from The Cow Shed Open Day.
The Dotted Crotchets are a contemporary pop and rock wedding String Quartet who were definitely drawing a crowd on the day! When you think String Quartet what comes to mind?
Our bets are on classical music or perhaps you are humming the Game of Thrones theme which has been popular at weddings over the past few years.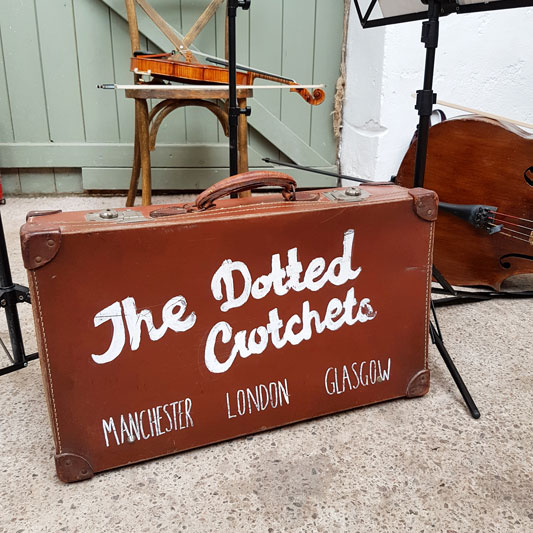 Trust us when we say they are much more than just a wedding String Quartet!
They had a massive list of categorised songs ranging from 60's classics, through all of the musical eras to Film and TV scores. We had so much fun requesting songs and hearing them in an entirely new light. Not to mention listening to songs other guests had requested, trying to suss out the artist and song. It sounds simple but boy is it so much fun!
We caught up with Ruth to hear her thoughts on The Cow Shed as a wedding venue and her tips to keep in mind if you decide to book The Dotted Crotchets.
"We love that The Cow Shed is a beautiful blank canvas that you can personalise in your own style.
Similarly, if you book The Dotted Crotchets String Quartet or Trio for your wedding, you get to decide the playlist, and we love when couples choose songs that are special to them. Don't worry about it being "appropriate" for a wedding, any song played on strings sounds beautiful! If you want to walk down the aisle to Metallica we say go for it!"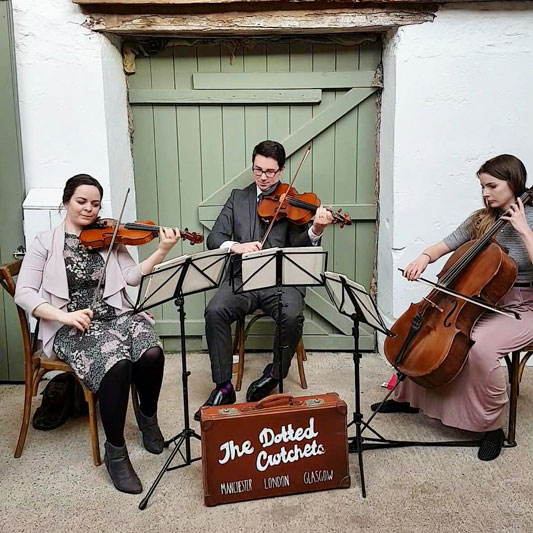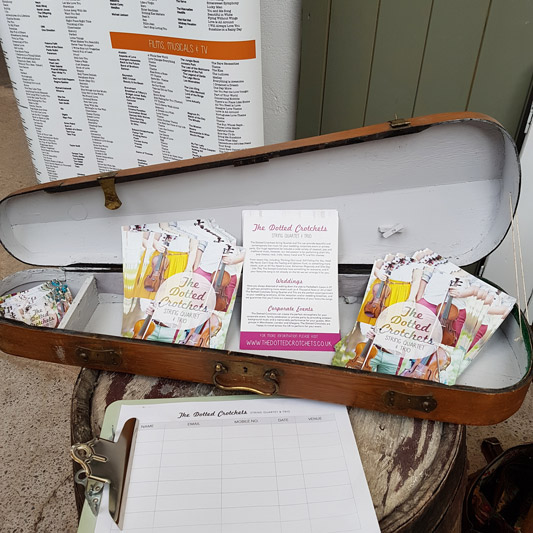 Loren Brand Cakes
So who is ready for some cake? Loren the talented baker from Loren Brand Cakes was sweet enough to provide us with some cake-tastic tips! (these cake puns are too irresistible, sorry!)
Disclaimer - your belly may rumble multiple times reading this section, we do not take any responsibility if you fall of the healthy eating wagon!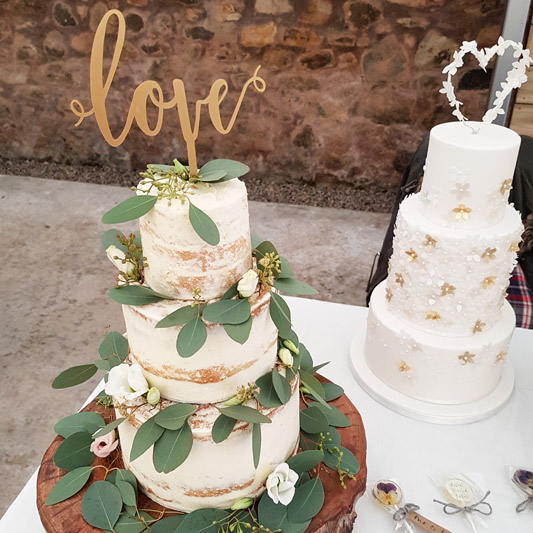 "Cutting the wedding cake is the first task that you'll perform jointly as a newly married couple. So it's a big part of your day! Planning your cake is a fun task and here are some tips to get you started.
Styling…
Weddings are full of inspiration for designing a cake- colours, textures, shapes and the venue itself. The Cow Shed is an amazing space. It's got a rustic, natural vibe with great original features. This style lends well to a semi-naked or buttercream cake. My favourite!
I love the texture of fresh buttercream with sponge peeking through. They smell great when they are on display too. These can be dressed with fresh flowers and/or fruit to match any season.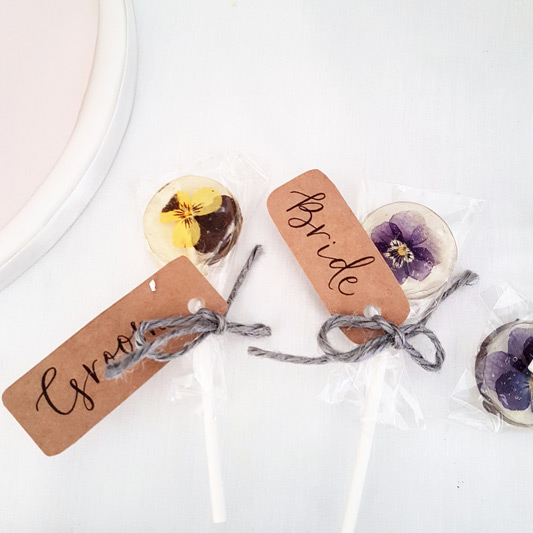 Edible flower lollipops make unique wedding favours. These sweet treats come in a variety of flower colours and flavours; tied with twine, ribbon or lace. They can be personalised with place names or a thank you note for your guests.
Flavours and tasting the cakes! 
Once you've chosen to save your date, it's time to taste some cakes! The most popular flavours are raspberry & white chocolate and chocolate brownie cake.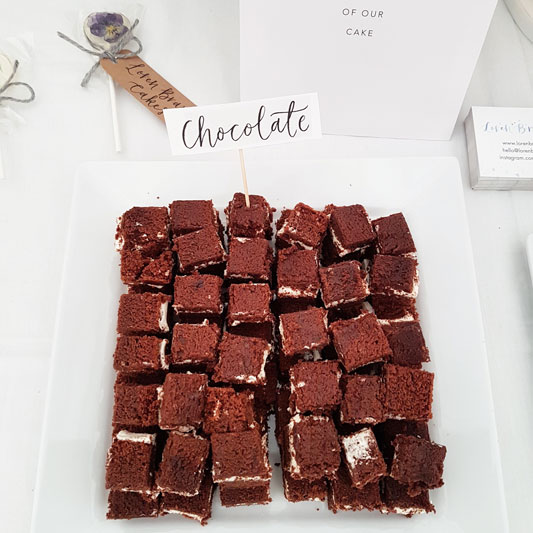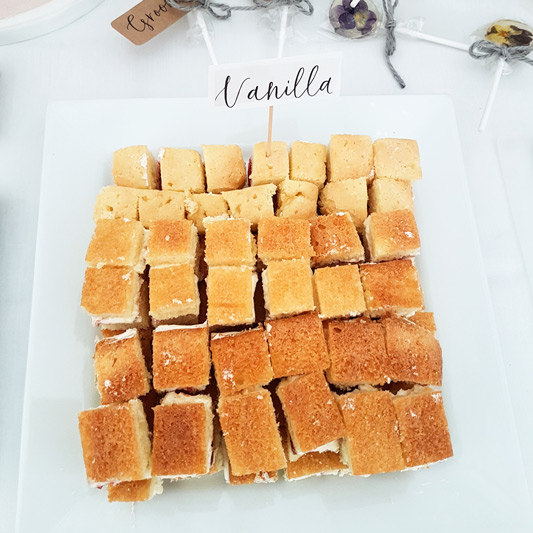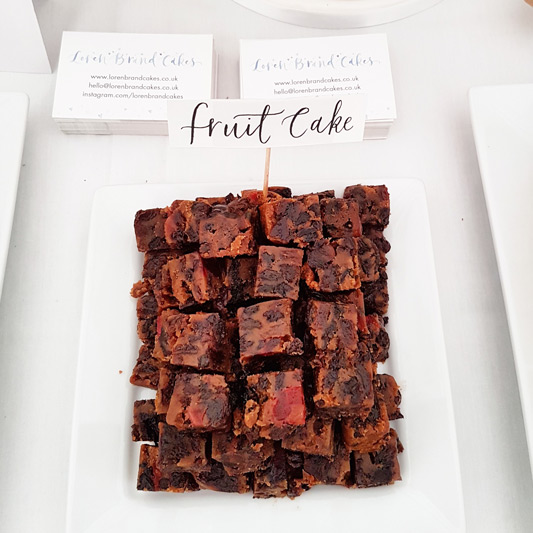 You can never have too much cake…
When will you be serving your cake…as a tasty dessert accompanied with fresh berries and cream or ice-cream, in the evening with tea and coffee, or as a post wedding treat the next day?
The size of cake will depend on these factors and your guest numbers. A standard three tier cake will feed approx 120 portions. Additional cupcakes or cutting cakes can be provided to make up numbers or cater for allergies. Two, four or five tier cakes will look just as great displayed on The Cow Shed's whisky barrels.
Cake delivery
We will liaise with the team at Cow Shed for the delivery and set up of your cake. The cake will be set up a few hours before the ceremony, so you are free to spend time with your loved ones. 
What's your dream cake?!
Holy jam roly poly, Loren really knows how to get our stomach's rumbling, we need some CAKE!
The Country Garden Company
The Cow Shed was bursting with colourful florally goodness. With flowers being such an important but sometimes confusing element of your wedding we had to catch up with the lovely Amanda from The Country Garden Company for some pointers.
"Set a budget and stick to it, if your budget is low, consider our DIY flower and foliage buckets - these can be arranged the day before and it is a lovely way for family and friends to get involved.
Try to have at least one statement piece - arch, backdrop, top table cloud or over dance floor hanging arrangement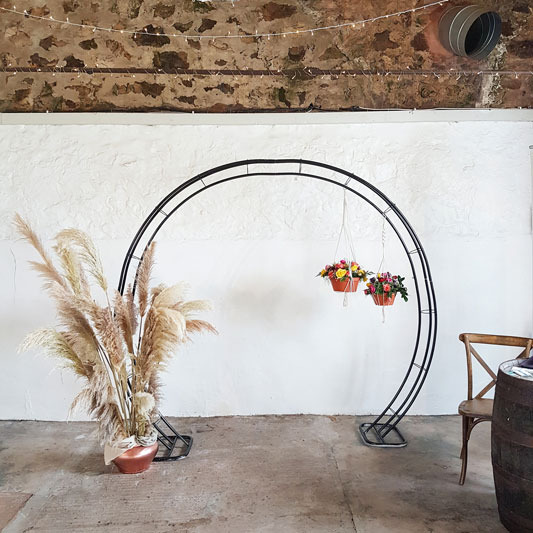 If hoping to get married outside make sure your arch or backdrop can be moved. 
We have a huge number of vases, containers, candle holders and various props most of which we supply for free so consider using these. 
The cow shed is a large venue with lots of darker corners so don't be shy of colour.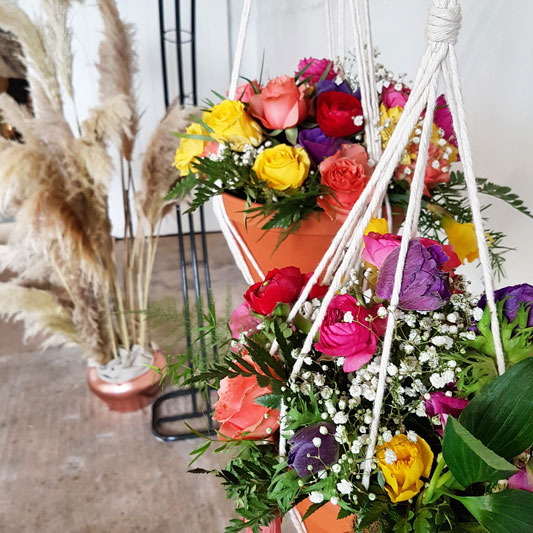 Go for some height on your tables - mix our candelabra with lower arrangements, or use our tall vases or stands (we have loads!).
When planning your table scape think first about the style of food service you will be having - platters and garlands do not mix well. 
Consider where photos are likely to be taken eg signing table, seating area and entrance. 
Finally take the advice of your florist - we have loads of experience at helping you get the best for your budget and know what flowers are in season and will look best."
Coach House Flowers
Emma from Coach House Flowers kindly shared her big tip to create impact and fill some space at The Cow Shed.
"We would recommend trees and lots of them! They are great for filling barns and large spaces….they also compliment large foliage hoops and hearts and arches."