Blair & Shona Glenbervie House Hotel
Blair & Shona Glenbervie House Hotel
Real Life Wedding Blog
Introduction/Back Story:
We met at music festival on the Isle of Wight and got engaged 3 and a half years later. Blair proposed in our flat with both of our families there. It was a huge surprise for me so much so that I cried, then Blair was crying. Both of us come from Scottish families, although we were brought up in England. We both wanted to get married in Scotland and were looking for a wedding venue that could cater for two large families.
Having looked at a few venues, we decided that we wanted a space that was ours exclusively for the day. With Blair's half of the family from Edinburgh, and my half of the family from Glasgow, Falkirk was the closest place that made it fair for both families to meet! More than anything, Glenbervie offered us a beautiful event space, that felt elegant yet intimate, could cater for the numbers we wanted and was inside for the whole day (we didn't trust the Scottish weather!).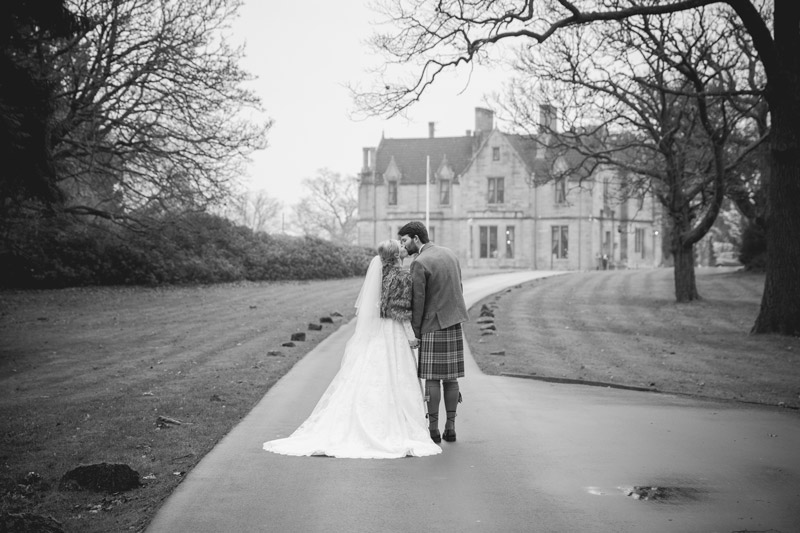 Q&A:
Why did you choose your wedding venue over other venues?
Glenbervie offered us a beautiful event space, that felt elegant yet intimate, could cater for the numbers we wanted and was inside for the whole day (we didn't trust the Scottish weather!). Once we met Jan and the team, they made us feel welcome and special whilst portraying a reassuring confidence in running a wedding from start to finish.
Did you add any personal touches to your wedding day?
We looked to add a number of personal touches for our wedding day. I hand wrote welcome and timings chalkboards, as well as the invitations ahead of time. For each of the tables, I used calligraphy to hand write each guests name on a blue agate stone. We also had temporary tattoos done of our faces and the date of our wedding (Ryan has a photo to prove it!).
When we can we volunteer at a dogs charity Love Underdogs, and made a donation on behalf of each table at the wedding, allowing us to choose a name for a dog arriving in their kennels this year. Each table put forward a name suggestion and we've sent the names to the charity.
As surprises, my niece Sophie, and my oldest friend Jess, found a song that I had written when I was 11 and put music to it, performing live on the day just before dinner. My nephew Harrison was also called up as Best Boy to give a speech during the meal, which ended up being better than everyone else's.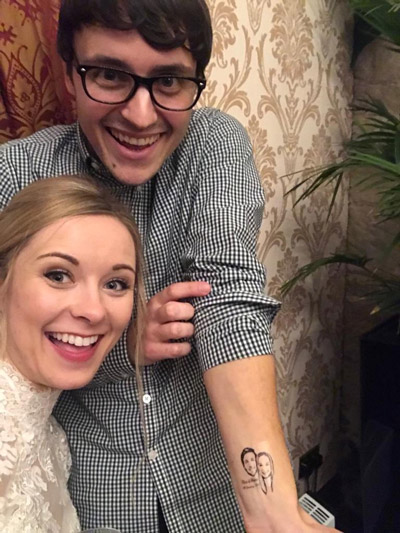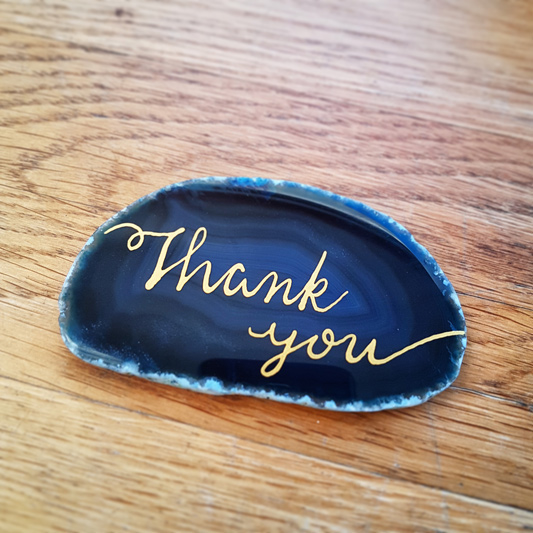 Can you describe the type of wedding ceremony you had and why?
We chose to have a civil ceremony that included a few enhancement ceremonies. It included a reading of Robert Burns by both of our mothers and a reading from Winnie The Pooh by my niece Sophie, as well as a Hand-Fastening ceremony and hand blessing done by the registrar. We thought this was personal but also made the ceremony feel less legally formal.
Why was your photographer a good fit for your wedding?
Karen and Carly from Heyes Images were amazing. We looked at their photos ahead of meeting them and had decided that they did the best job. They both met us on a number of occasions in different places in Scotland and made us feel at ease, assured and like we were their friends. Having sisters as our photographers meant that they understood the importance of different family photos, as well as how to navigate on a busy day.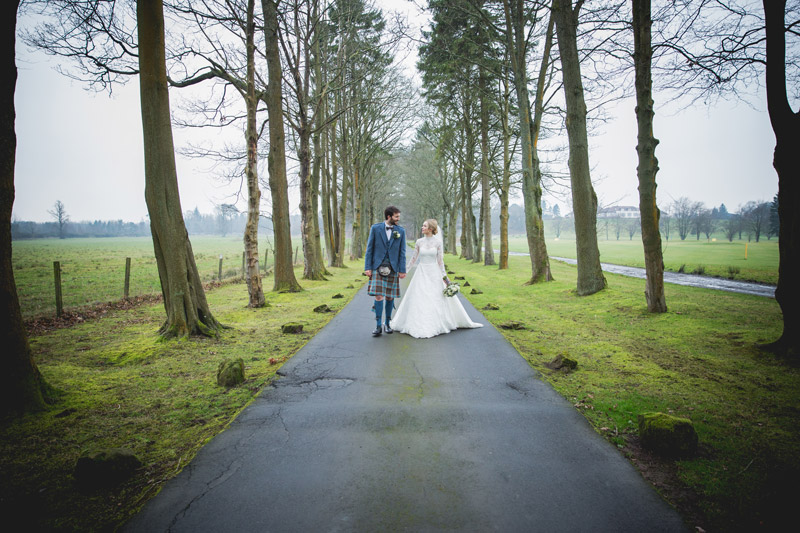 Tell us about your wedding meal/wedding breakfast?
The wedding breakfast was done by the venue. We went for a traditional Scottish meal, including Haggis and Scotch beef.
What was your first dance song and why?
Our first dance song was Something Like Happiness by the Maccabees. Part of choosing Ernest as our band, was because they offered to learn any song for your first dance. They did an absolutely amazing job and it was perfect.
Can you describe how guests were kept entertained during your wedding reception?
We had a photo booth! Guests of all ages loved this. Next to the photo booth and band we had a pic n mix table, as well as a small toy present bag for the kids there.
We made sure there were a couple of tables set out so that guests could leave us notes and sign a photo. We asked Ernest the band to do a Ceilidh after the buffet to get everyone back on their feet! With that in mind we also had flip flops available for anyone with sore feet from all the dancing!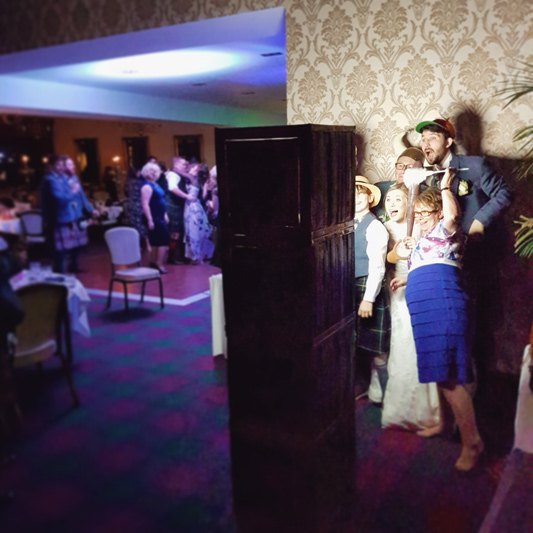 Summary:
If I had to choose one personal highlight it would be ..... getting married to my best friend 🙂
We loved all the personal touches and it meant a lot to us to have a special group of people all in one place. It felt like we just had one big family.
One of the more challenging aspects of planning a wedding was struggling to fit organising the wedding around a busy work and life schedule. Whilst England and Scotland aren't that far away from each other, it was more difficult than we expected to move things between various locations and didn't have the ability to just 'drop in' when needed.
If we could go back in time to give ourselves advice we would tell us ourselves to trust the people you have asked to do things, they will do it, just not on your timeline, everything will be amazing when the day arrives.
Would we do it all again? Yes, it was genuinely the best day of our lives. We would love to have another big party with all of the same people there, but we don't ever want to organise another wedding!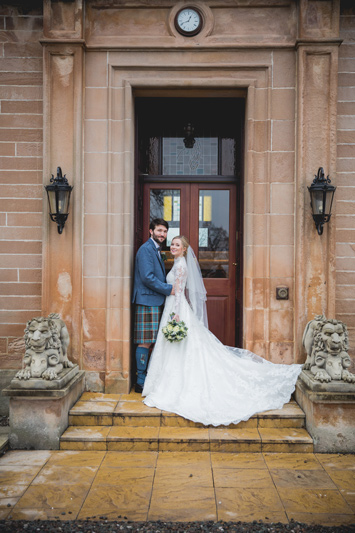 Blair & Shona's Wedding Suppliers List: